---
---
WELCOME TO
"FUTURE FOLK" LIBRARY
---
---
The following e-books offer background information
on "Future Folk",our interests, long-term goals, and why.(bc)

Contact information: NEW E-MAIL(2007)
Old address of adelphia.net will not work.
Many are still scattered thru our site. I'm
changing them as fast as I can.
Thanks for patience.
E-MAIL
Betty Curtis - "Future Folk" Music -
Phone: (760) 365-9146


---

---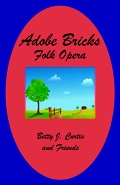 Buy "Adobe Bricks" Folk Opera
Direct From The Author
---
---

Songwriters - Musicians - Performers
check out the helpful links on our Songmaker's page !
---
---
©-Graphics courtesy of

---
---

---
"PLACES AND TIMES POETRY COLLECTION"
by
Betty Curtis
© -1983 & 2000
---



---
---
Interested in Screenwriting ? Check this out !
Esther Luttrell's Student Info and Editing Services
Screenwriter's Services
*Insider Real and Up-To-Date*

DANDELION BOOKS

---
---
Please Note

All links that lead to other sites,
lead to independant sites.
They are not affiliated with "Future Folk"
Music or RoadSong in any business way.
Dealings with them are berween you and them.

HERE ARE SOME GREAT SITES FOR WRITERS & POETS
THINKERS.NET

WRITERS.NET

EVERYPOET.COM

---
---
Be sure to visit "A Planetary Links Station"
For many valuable and interesting sites. Take the tour !
Planetary Links Station